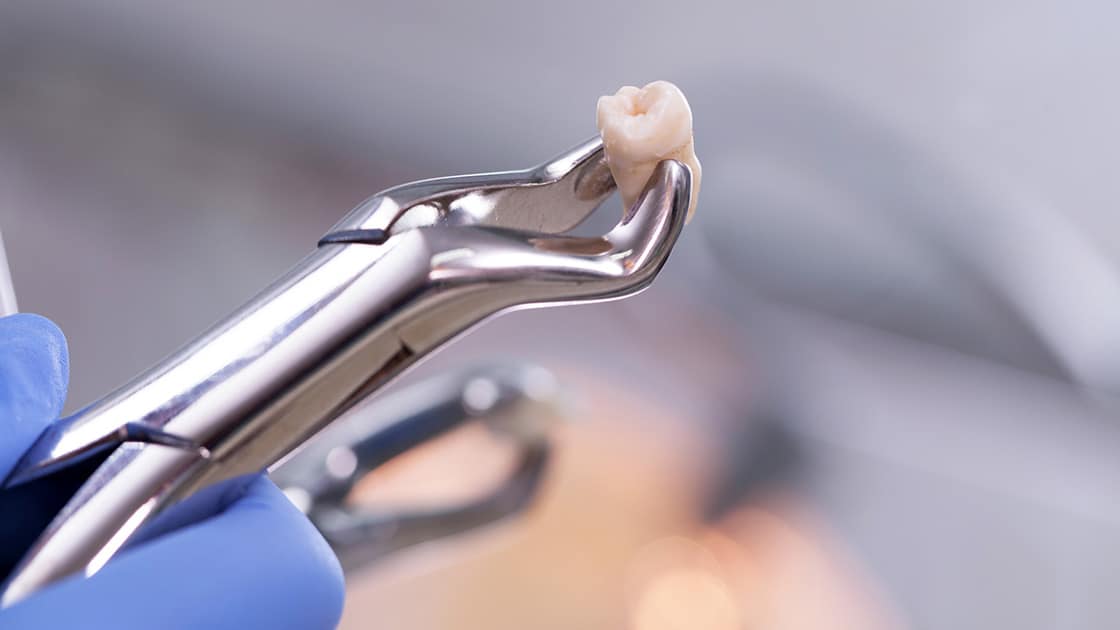 If you have an impacted wisdom tooth or canine tooth, or need a damaged tooth extracted for any reason, Fullerton Oral Surgery performs tooth extractions in Fullerton, CA. Call
714-525-1178
to learn more and schedule an appointment.
What Is A Tooth Extraction?

Tooth extraction is a procedure to remove a tooth from its socket. People often refer to this procedure as having a tooth "pulled."
Tooth extractions are necessary for many situations. Sometimes teeth become damaged or decayed beyond a dentist's ability to restore them. Sometimes teeth are impacted, meaning they cannot erupt into the mouth. This procedure may also be necessary when teeth must be removed for orthodontic purposes.
Tooth extraction is generally an easy procedure unless the tooth is impacted. In preparation for implants, the oral surgeon often adds a bone graft to increase bone mass and strengthen the jaw in the extraction area.
Wisdom Tooth Extractions
Wisdom tooth extractions become necessary when the wisdom teeth or third molars can't come in due to their position or available space. They may also cause pain, interfere with the alignment of other teeth, and become infected.
Wisdom tooth extraction is more complex and requires a longer recovery time in an older patient. Oral surgeons often remove wisdom teeth in a patient's late teens. This procedure helps to prevent future problems.
Our office provides platelet-rich fibrin therapy to all wisdom tooth extraction patients. Platelet-rich fibrin comes from the patient's blood and contains growth factors in the form of stem cells that speed healing.
Benefits of Tooth Extractions

Here are several benefits of tooth extractions:
Pain relief:

Oral surgeons often remove teeth because they are causing pain.

Stopping infections:

Removing a compromised tooth is often the most effective means of ending tooth infections.

Preventing damage to other teeth:

An infected or severely decayed tooth could cause the problem to spread to other teeth.

Making orthodontic work possible:

Tooth extractions can help to clear the way for moving teeth into optimal positions.
Are You a Good Candidate for Tooth Extractions?

An extraction may be your best option if you have a painful or infected tooth.  In the case of wisdom teeth, the oral surgeon may recommend removing them to prevent future problems.
Why Choose Fullerton Oral Surgery?

Our warm, friendly office cares for your oral surgery needs with skill and compassion. Our entire office staff cares for our patients and wants to help them live pain-free with excellent oral health. We use advanced technology to give you the best experience.
Tooth Extraction FAQs
Here are our patients' questions about tooth extraction:
Is the procedure painful?
Thanks to local anesthesia and sedation, you will not feel any pain during the procedure.
How is the recovery from a tooth extraction?
The recovery process and time differ according to the type of tooth removed and how complex the procedure is.
Can I be sedated for the procedure?
Our office provides IV sedation with skilled and board-certified assistants.
Contact Our Office to Schedule an Appointment

If you believe you have one or more teeth that need removal, call our Fullerton office at 714-525-1178 today. Our expert oral surgeon and staff will make the procedure as comfortable as possible for you.