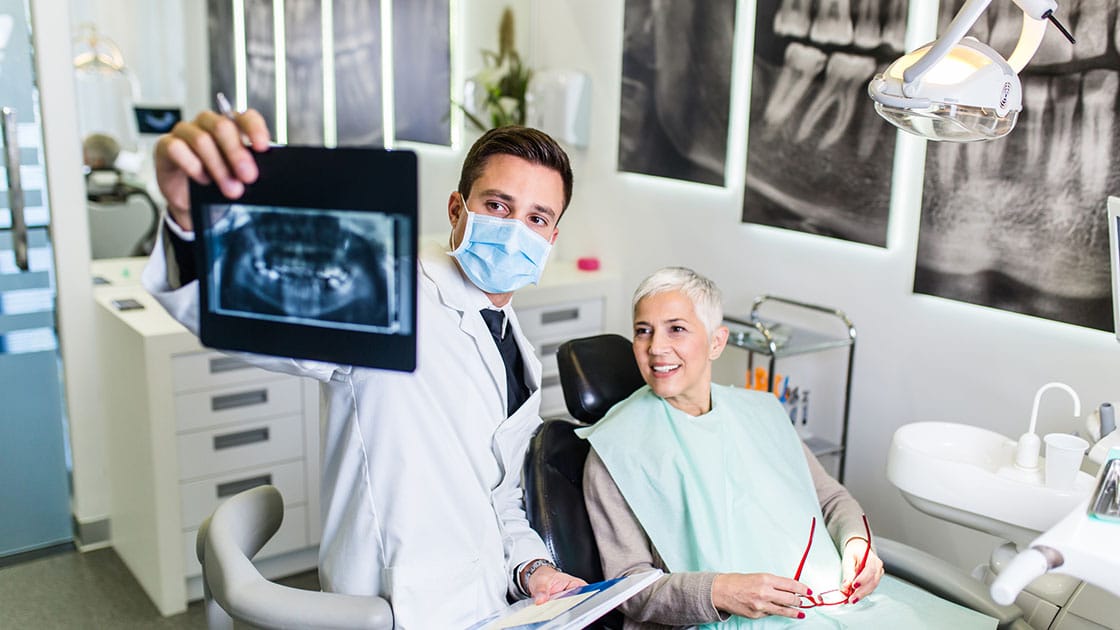 Fullerton Oral Surgery provides dentoalveolar surgery in Fullerton, CA. Call our office at 714-525-1178 to make an appointment or learn more about our services.
What Is Dentoalveolar Surgery?
Dentoalveolar surgery refers to procedures that reshape the soft and hard tissues supporting the teeth. The alveolar ridge is part of the jawbone that holds the teeth. Dentoalveolar procedures are the most common type that oral and maxillofacial surgeons perform.
Procedures Offered
Many procedures fall under the category of dentoalveolar surgery. These procedures include:
Dental Extractions
Many extractions are not complicated, but they are more involved when the tooth is impacted or already broken. Impacted teeth need special care during removal.
Apicoectomy
An apicoectomy is a surgery where the surgeon removes gum tissue and the tip of the tooth's root while the top stays in place. It is also called a "root-end resection." This procedure often becomes necessary when a root canal is not successful. This surgery can save a natural tooth from extraction in many cases.
Biopsies and Cyst Removal
An oral pathology biopsy removes a tissue sample to check for signs of cancer or another disease. Oral surgeons can also remove benign cysts and other lesions.
Root Extractions
Sometimes part of the root is left behind when a tooth breaks or after incomplete tooth extraction. The dentist makes an incision on the gumline and uses a surgical flap to access the jawbone, removing the root.
Recontouring the Alveolar Ridge
Also known as alveoloplasty, this surgery recreates the gums' natural shape. Alveoloplasty is sometimes necessary before dental implant surgery when insufficient jawbone height is a problem. After tooth extraction, the surgeon places a bone graft in the socket left behind. Bone loss can also occur due to gum disease.
Exposure of Teeth for Orthodontics
When teeth cannot erupt on their own, they can cause orthodontic problems. After the orthodontist places braces on the patient's teeth to open a space for the tooth, the oral surgeon exposes the tooth by lifting the gum and applying an orthodontic bracket. At this time, the primary tooth may also need removal. A small chain connects the new bracket to the archwire of the existing braces. Over time, gentle pressure helps the tooth to erupt.
Why Choose Fullerton Oral Surgery?
Our patient-focused practice uses advanced methods and technology to care for your oral health issues. We have created a friendly environment where patients can feel comfortable.
Frequently Asked Questions About Dentoalveolar Surgery
Here are several of our patients' most common questions about this type of surgery:
Is dentoalveolar surgery painful?
You will receive appropriate anesthesia. You can also opt for sedation if necessary. The procedures are generally well-tolerated.
Why would an oral surgeon recommend tooth extraction?
Dentists and oral surgeons share the goal of preserving natural teeth, but sometimes this is impossible. Extraction may become necessary if a tooth is severely infected, broken, or otherwise unrepairable. After the surgeon extracts the problem tooth, your oral health will improve.
If I still have pain after a root canal, will I need an apicoectomy?
Your oral surgeon will determine which procedure you need. It is possible that an endodontist could address the residual infection with a root canal retreatment rather than an apicoectomy.
Why does bone break down after tooth loss?
When there are missing teeth, the alveolar ridge does not receive enough stimulation. The gum reabsorbs the bone because the body is not using it.
What does a bone graft procedure involve?
A bone graft is relatively simple. It often takes place directly after tooth extraction. If the gum has healed already, the surgeon makes an incision to expose the socket. They introduce bone material into the socket, providing a scaffold for the body's natural bone growth. They may cover the area with a resorbable membrane and then suture the gum.
How is the recovery from dentoalveolar surgery?
Like any other oral surgery, please rest for a few days after your procedure. You may need pain medications depending on the extent of the surgery. The gum should heal within a matter of days, but you could still have some residual soreness and swelling.
Call Fullerton Oral Surgery
If you want to know more about the various types of dentoalveolar surgery and whether you may need one of these procedures, call our office at 714-525-1178 or for a consultation.